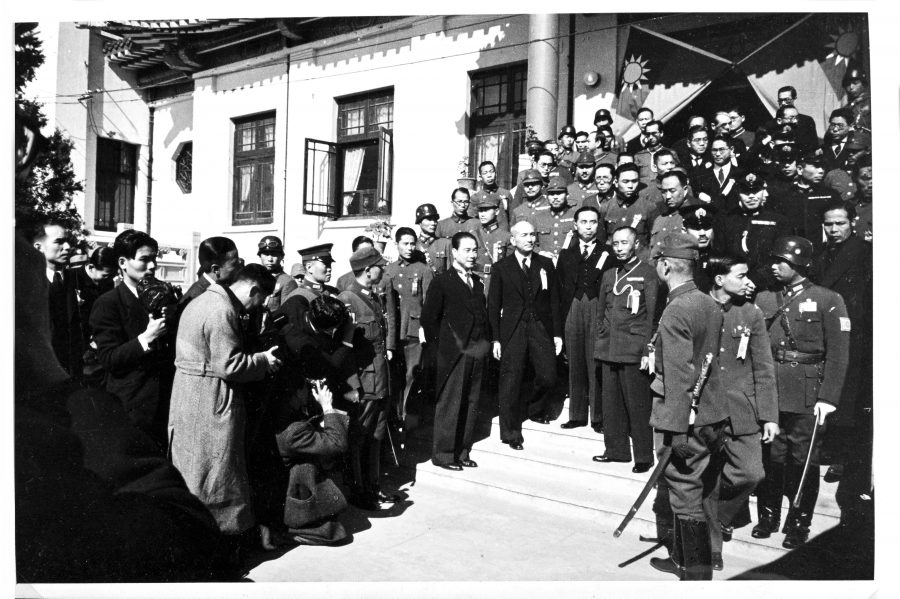 Description
Journalists take photographs of Wang Jingwei (head of the RNG), Chu Minyi (RNG foreign minister), Zang Shiyi (Manchukuo ambassador to RNG China).
RNG leaders on steps of Government Headquarters, November 1940
Flanked by civilian and military staff, Wang Jingwei, Zang Shiyi (the Manchukuo ambassador to the RNG) and Chu Minyi (RNG foreign minister) pose for photographs in front of the ceremonial hall (litang) in the national government compound in Nanjing after the signing of the Japan-Manchukuo-China Joint Declaration on 30 November 1940, through which RNG China recognised Manchukuo.
Date

30 November 1940

Artist/Creator

Anon

Medium

Photograph


Theme

Case Studies

Keywords
Further information
Further Reading
John Hunter Boyle, China and Japan at War, 1937-1945: The Politics of Collaboration (Stanford, CA: Stanford University Press, 1972).
Source
Source Reference Details
CN 11/11
Permissions/Acknowledgements
Courtesy of the National Archives
COTCA Identifier
TNA-0003