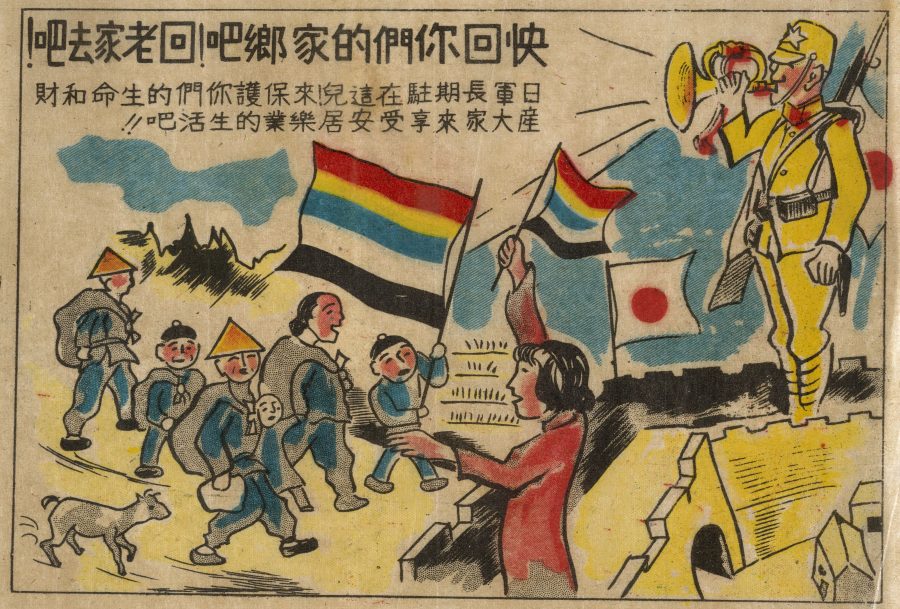 Description
Leaflet depicting Chinese "new woman" and Japanese troops urging Chinese civilians to return to a generic occupied city.
Kuai hui nimen de jiaxiang ba! (Hurry back to your homes!)
This leaflet, produced with the aim of encouraging civilians in occupied north China to return to cities and towns under Japanese rule, includes many of the standard tropes of early occupied north China propaganda: a "new woman"; city walls; the "five-coloured flag" (wuseqi). The text on the leaflet reads: "Hurry back to your homes! Return to your hometowns! The Japanese army will be here for a long time. Come and protect your livelihoods and your assets. Everyone can savour living in peace and enjoying their work again".
Date

circa 1937 — 1938

Artist/Creator

Anon

Medium

Ephemera


Case Studies

Keywords
Further information
Further Reading
Jeremy E. Taylor, "Gendered Archetypes of Wartime Occupation: 'New Women' in Occupied North China, 1937–40", Gender & History 28.3 (2016): 660-686.
Source
Source Reference Details
Japanese Collections: 2006, 0117, 0.1–109
Permissions/Acknowledgements
© The Trustees of the British Museum
COTCA Identifier
BM-0002