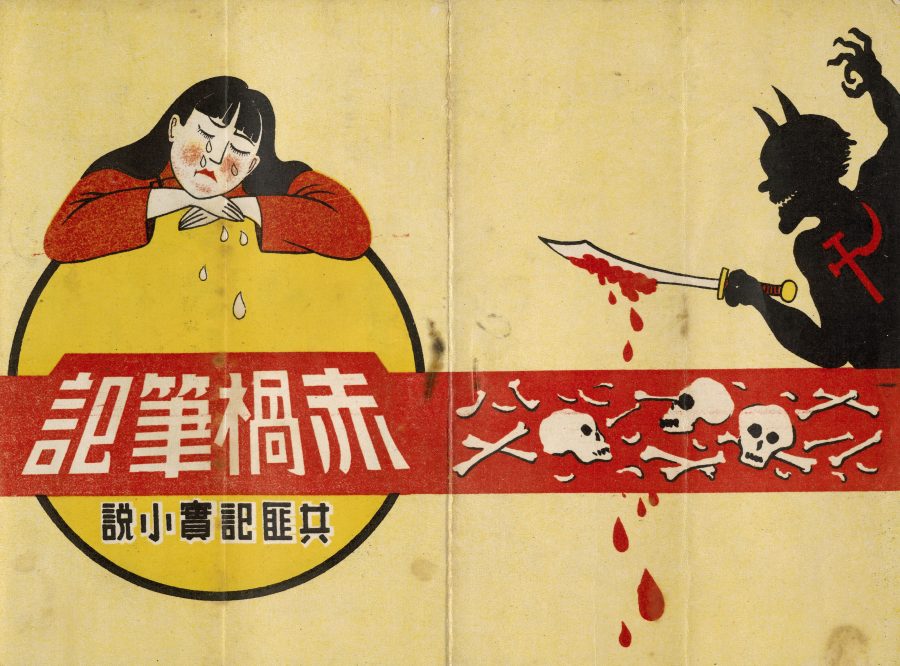 Description
Cover image of anti-communist novella produced in occupied north China.
Chihuo biji: Gongfei jishi xiaoshuo
(A record of the Red Peril: A novel recording the deeds of the Communist bandits)
This book, almost certainly produced by the Japanese military, tells the story of communist violence against Chinese peasants in wartime Shanxi, and the escape of an anti-communist Chinese peasant girl to occupied Beijing. It was clearly written to discourage civilian support for the communist resistance in north China, and to foster peasant support for the newly-established PGROC early in the occupation. The weeping peasant woman is juxtaposed to the sinister "devil" that is international communism.
Date

circa 1938

Artist/Creator

Anon

Medium

Book / Published Material


Case Studies

Keywords
Further information
Further Reading
Jeremy E. Taylor, "Gendered Archetypes of Wartime Occupation: 'New Women' in Occupied North China, 1937–40", Gender & History 28.3 (2016): 660-686.
Source
Source Reference Details
Japanese Collections: 2006, 0117, 0.1–109
Permissions/Acknowledgements
© The Trustees of the British Museum
COTCA Identifier
BM-0004