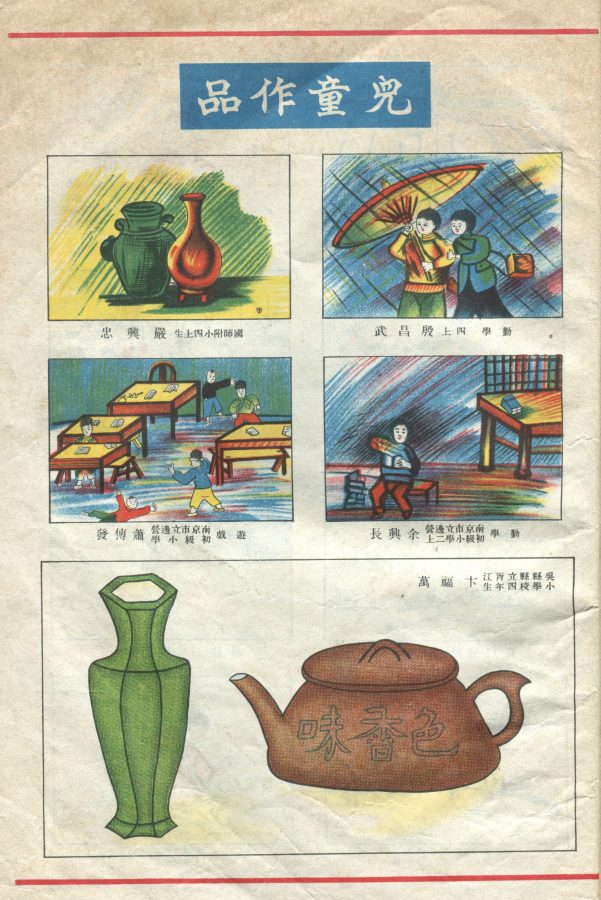 Description
Images produced by children in occupied Nanjing in the spring of 1941.
Ertong zuopin (works by children), I
This is a selection of images (most being pencil drawings) contributed to the magazine Ertong huakan (Children's Pictorial) 9.10 (April 1941) by readers. The images offer a fascinating insight into the ways in which official ideas about perceived notions of student behaviour in occupied China were reflected in the artwork of Chinese school children living in the RNG capital. Two of the drawings in this selection, for example, relate to the hardships of studying (in difficult weather, poor light, etc), while one depicts children playing in a classroom.
Date

4 April 1941

Artist/Creator

Various

Medium

Book / Published Material


Theme

Case Studies

Keywords
Further information
Source
East Asia Library, Stanford University
Source Reference Details
EAL 5796 7051
Permissions/Acknowledgements
East Asia Library, Stanford University
COTCA Identifier
SEAL-0003