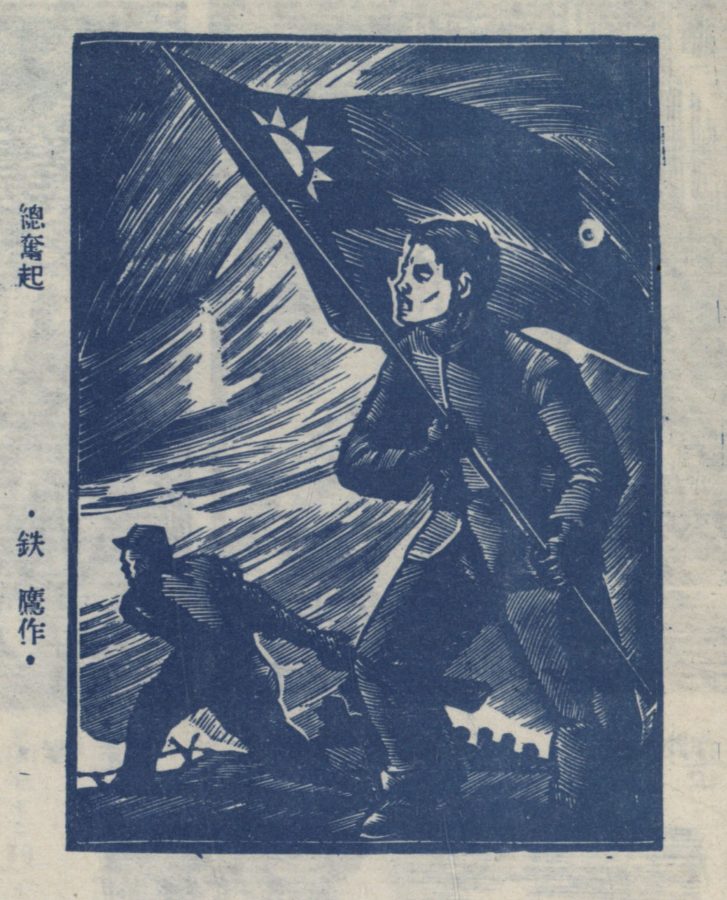 Description
Woodcut depiction of two Chinese men rising up in anti-imperialist anger.
This woodcut, by an artist called Tie Ying (lit. "iron eagle"), was reproduced in Zhonghua huabao (Chinese Pictorial) 2.2 (March 1944). The importance of the muke (woodcut) form to artistic practice in occupied China has been almost entirely overlooked in the literature. The muke form has hitherto been associated with the art of resistance in China, despite being an important part of "occupation" visual cultures as well.
In this case, the image of Chinese men, dressed in their "New Citizens Uniforms" (Xin guomin zhifu) and waving the ROC flag as they run into battle against enemies unseen, looks almost identical to early wartime resistance muke.
Date

March 1944

Artist/Creator

Tie Ying 鉄鷹

Medium

Woodcut


Theme

Case Studies

Keywords
Further information
Source
Source Reference Details
Modern Documents Reading Room
Permissions/Acknowledgements
Shanghai Library
COTCA Identifier
SL-0006