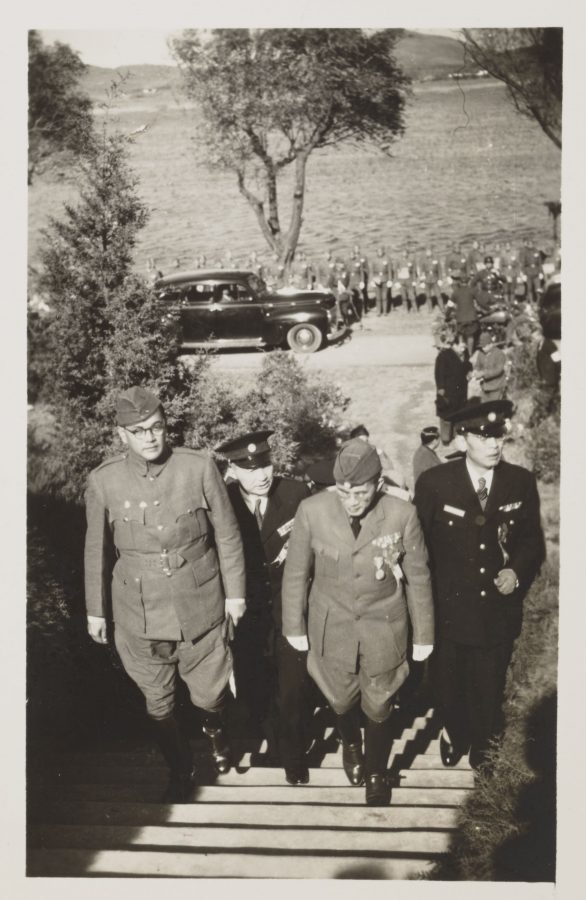 Description
Subhas Chandra Bose, Lin Baisheng and Chu Minyi in Nanjing, November 1943.
Subhas Chandra Bose in Nanjing, November 1943
Lin Baisheng, RNG publicity minister (second from right) and Chu Minyi (second from left) accompany a uniformed Subhas Chandra Bose (far left) (leader of the Indian National Army) during his visit to Nanjing in November 1943. Both Wang Jingwei and Bose had attended the Greater East Asia Conference in Tokyo in the same month, and Bose's visit to Nanjing was celebrated by an administration which had few opportunities to welcome prominent international leaders to its capital.
Date

November 1943

Artist/Creator

Anon

Medium

Photograph


Case Studies

Keywords
Further information
Further Reading
Girish Chandra Maiti, "Subhas Chandra Bose's perspective on China", In Madhavi Thampi (ed), India and China in the Colonial World (New York: Routledge, 2017), 184-190.
Source
Source Reference Details
Chu Minyi Photographic Collection, LOC Prints and Photographs Room, Lot 11700
Permissions/Acknowledgements
Library of Congress
COTCA Identifier
LOC-0003