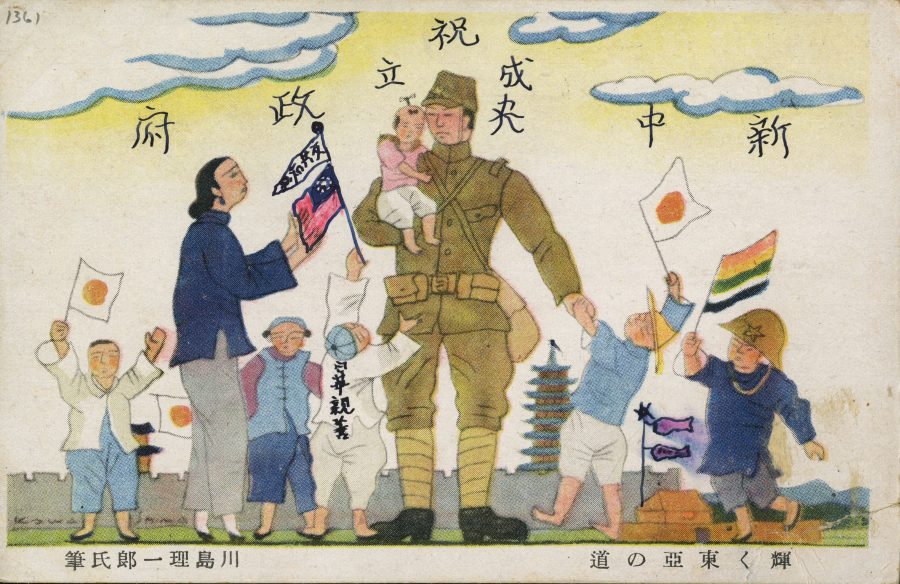 Description
Postcard showing Chinese civilians with a Japanese soldier.
Kagayaku Tōa no michi (The road to a shining East Asia)
This postcard, featuring an illustration by the prolific Japanese artist Riichiro Kawashima, shows a Japanese soldier celebrating "kagayaku Tōa no michi" (the road to a shining East Asia), with Chinese civilians. Of interest here is the fact that the Republican Chinese flag appears to have been drawn onto the postcard (and made to look as if it is being held by the child dressed in white), while other figures in the image hold the "five-coloured flag (wuseqi). The "five-coloured flag" was used by the Reformed Government of the Republic of China (RGROC) up until March 1940, but was replaced by the Republican Chinese flag with the formation of Wang Jingwei's government. This suggests that the postcard was made prior to March 1940, but used some time thereafter. Text reading "qing zhu xin zhongyang zhengfu chengli" (Celebrating the founding of the new central government) has also been added above the figures, while the phrase "Ri-Hua qinshan" (Japanese-Chinese friendship) has been added to the boy in white.
Date

1938 — 1940

Artist/Creator

Kawashima, Riichiro 川島理一郎

Medium

Ephemera


Dimensions

5.8 x 4.1"

Theme

Case Studies

Keywords

army, children, city walls, flag, women
Further information
Source
Source Reference Details
Daniel Ching Collection (93021-11.68/69), Box 22
Permissions/Acknowledgements
Hoover Institution
COTCA Identifier
HI-0002