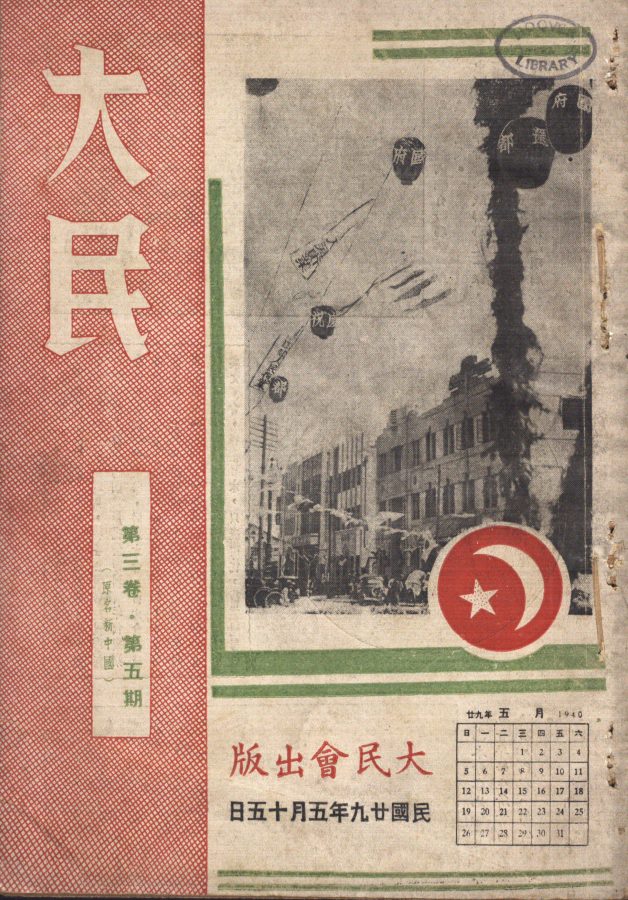 Description
Cover of propaganda magazine, showing photographs of Nanjing streets festooned with flags and lanterns.
Damin cover image, May 1940
This is the cover image of the magazine Damin 3.3 (May 1940), published by the Daminhui (Great People's Association) in Nanjing. The Daminhui was a propaganda and mobilization organization established by the Japanese in 1938, which was later folded into Wang Jingwei's Kuomintang (Nationalist Party). The Daminhui specialised in public expressions of support for the occupation, and employed a staff of Chinese organisers, artists, and writers. The sun-and-moon logo of the Daminhui can be seen on this magazine's cover.
Date

15 May 1940

Artist/Creator

Daminhui 大民會

Medium

Book / Published Material


Theme

Case Studies

Keywords
Further information
Further Reading
Liu Jie, "Kangzhan chuqi Huadong lunxianqu qin-Ri qunti yanjiu: yi Daminhui Zhenjiang lianhe zhibu wei zhongxin de tantao" (A study of pro-Japanese groups in occupied areas of east China in the early stages of the War of Resistance: A discussion of the Daminhui's branch office in Zhenjiang), Zhongyang yanjiuyuan jindaishi yanjiusuo jikan 98 (2017): 89-114.
Source
Source Reference Details
2991.5 4374
Permissions/Acknowledgements
Hoover Institution
COTCA Identifier
HI-0003