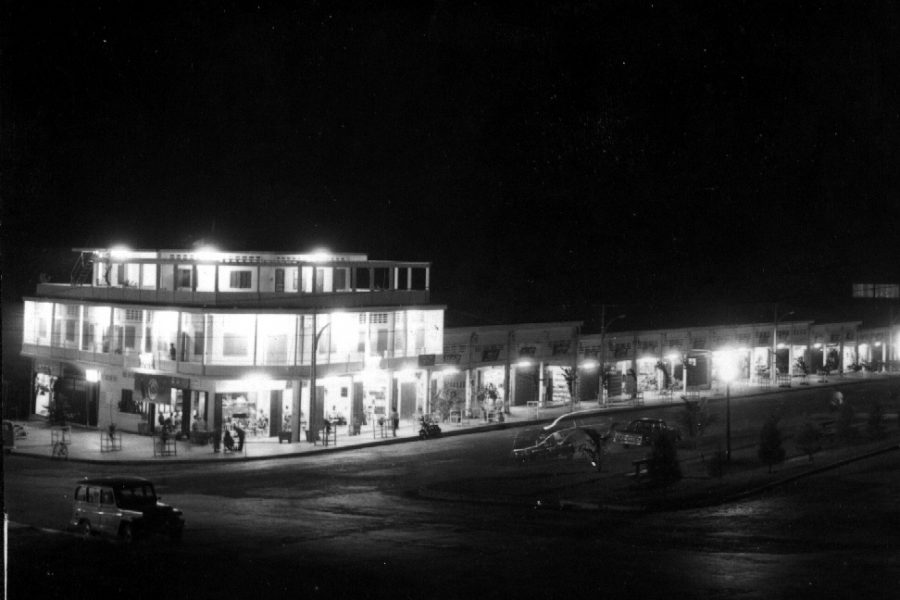 Description
Photograph of lit buildings and commercial streets in Sihanoukville city centre by night in the mid 1960s.
Commercial street in Sihanoukville by night
This unattributed photograph shows a lit building and a commercial street in Sihanoukville city centre by night. The upper floors of the two-story building at the corner are private homes. The ground floor appears to be a restaurant.
The photograph is part of the collection that was donated to the National Archives of Cambodia from the Library of the Royal University of Fine Arts by Darryl Collins and Helen Grant Ross in 2003. The collection was used by Collins and Ross for their research into urbanisation. The images were probably originally used to mount the Sangkum Reastr Niyum Permanent Exhibition at the Exhibition Hall, Bassac area, Phnom Penh.
This specific photograph was used as an illustration to an article entitled "The seaport of Sihanoukville was a vital necessity for the kingdom" by Jacques Fabre in the monthly pictorial Kambuja, no. 4 (15 June 1965): 65.
Date

1965

Artist/Creator

Unattributed

Medium

Photograph


Theme

Case Studies

Keywords
Further information
Source
Source Reference Details
1043 (RUFA Collection)
COTCA Identifier
NAC-002